Erica lives with her husband Dennis Lanson in San Miguel de Allende, Mexico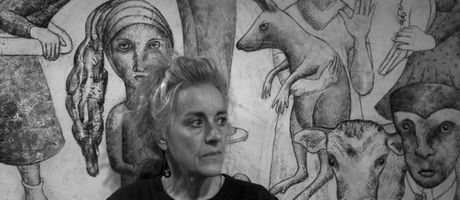 Erica was born in England and received her MFA from the Royal, College of Art, London. She moved to the U.S. in 1984 and permanently to Mexico in 2015. The murals from "Dialogues With Mother Earth" were exhibited in 2017 at El Centro Nigromante Bellas Artes in San Miguel de Allende, Mexico: at Olin College of Engineering, in Needham, MA. and at Clark University, Worcester, MA in 2016.

Previous exhibitions include Clark Gallery, Lincoln, MA; the Turner Center for the Arts, Valdosta, GA; the University of Denver, CO; Phyllis Kind Gallery, Chicago; Sherry Frumkin Gallery, Santa Monica, CA; Santa Barbara Contemporary Arts Forum, CA; William Havu Gallery, Denver, CO; Brandeis University: Royal College of Art, London and the University of North Carolina, Greensboro.

Erica's first solo show was at the Arts Council of Great Britain's AIR Gallery in London in 1981. In 1984 she received a Welsh Arts Council Special Project grant in support of a residency at the MacDowell Colony. Significant museum exhibitions include Santa Barbara Museum of Art; Los Angeles County Museum; Galleria d'Arte Moderna, Bologna, Italy; National Museum of Wales; Institute of Contemporary Art, London and the Royal Academy of Art, London. In 2008 her drawing "Interplay: Carafe" was purchased by the British Museum. She received fellowships at Virginia Center for Creative Arts in 2006 and 2005. From1995 to 2015 Erica taught drawing full-time at the School of the Museum of Fine Arts, Boston. "Dialogues With Mother Earth" has received support from the Pollock-Krasner Foundation, Massachusetts Cultural Council, the Berkshire Taconic Foundation, the Corporation of Yaddo and the New York Foundation for the Arts Fiscal Sponsorship Program.